Click on images to read map details and size
Click on "template" to read the template source that generated the map. You can use templates as examples for requesting new maps.
---
Region: US_R2_NORTH
Longitude -77 to -73.5 Latitude 40.5 to 42.5 (template)
This is a high resolution map for operating from Wurtsboro, NY. It covers northern part of US Region 2 extending to Harris Hill in northwest, Nutmeg in northeast and just over 30 miles south of Blairstown.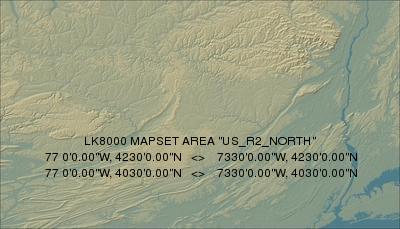 Terrain 250m DEM: US_R2_NORTH_250.DEM
Terrain 500m DEM: US_R2_NORTH_500.DEM
Terrain 1000m DEM: US_R2_NORTH_1000.DEM
Topology: US_R2_NORTH.LKM
---
This page was generated automatically by DoLKMaps on Fri Feb 17 18:47:03 CET 2017